Get More Leads From Your Trade Show Booth
4-Week Digital Marketing Checklist for Trade Show Success
Trade shows and industry events are great way to increase business awareness and gain new leads. But are you getting the most out of your event booth efforts?
Using our Digital Marketing Tradeshow Checklist your business can take steps leading up to your next event that will drive traffic to your booth and generate valuable leads for your business.
Our Checklist includes:
A month's worth of actions you can take to set up a digital marketing campaign to drive more leads to your booth.
Tips for what to do each week leading up to your next event.
Ideas for how to nurture leads after the event through digital marketing techniques.
Don't miss out on the opportunity to get more ROI from your trade show and event booth. Fill out the form to get instant access to our 4-Week Digital Marketing Checklist for Trade Show Success!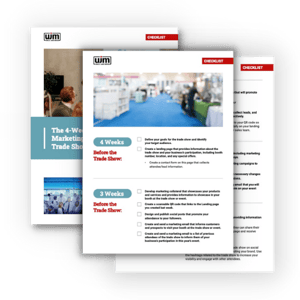 Grow Your Business
Learn how UJM can help grow your business through our website and inbound marketing services.
Here are some website and marketing tips and tricks that we plucked right from the brains of our expert team members.